Ref:
Date:
Location:
Photographer:
Ref:
Date:
Location:
Photographer:
Limestone Landscapes: Flow ? Time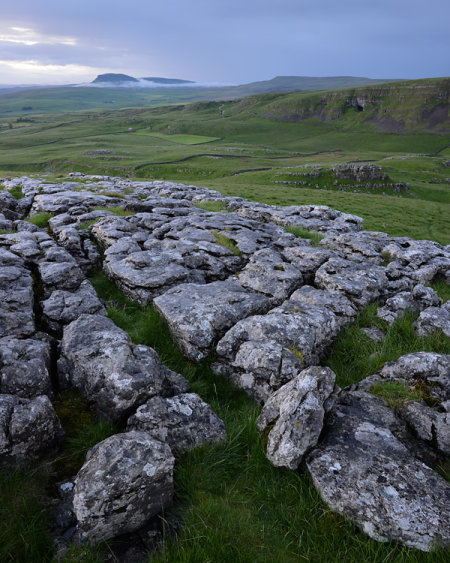 14/11/17
Limestone Landscapes:
Flow, Time
by Andy Latham
Confessing to having a favourite type of rock opens oneself to a certain amount of derision and the inevitable quip, "Is it Blackpool?" However, I would guess that a large portion of landscape photographers have at least a passing interest in geology; after all, geology is frequently the essence of what is being photographed. Rock helps to define a place, whether that is the gritstone sculptures of the Peaks, the Torridonian sandstone of Assynt or the exquisite, ancient swirls of Lewisian gneiss in the Outer Hebrides. As wonderful as these rocks are, one rock stands out, to me, as just that little bit different, that little bit special – limestone. Limestone has a story to tell like no other, a story that spans the vastness of geological time and yet one that continues on a scale more comprehensible to humans.
For a start, limestone is made out of life. The Carboniferous limestone found in the north-west of England was created 350 million years ago by layer upon layer of dead sea creatures and corals settling on the bottom of a warm, shallow tropical sea. Mind-blowing geological processes turned the calcite of the creatures into rock and transported it to what is currently Yorkshire. So the next time you are standing at the top of Malham Cove or wandering over Twistleton Scar take a moment to reflect on the fact that you are standing on a former sea bed that used to be somewhere akin to the Bahamas! After arriving in its current location the limestone then underwent the rigours of the ice age, the bedrock scoured and gouged before finally being revealed 10,000 years ago as the last of the ice retreated. Exposed to the weather, the rock then succumbed to the slow, subtle effects of rainwater dissolving and eroding to form the karst landscape of caverns, potholes and the clints & grikes of limestone pavement; a process which continues today.
The organic nature of the rock and its intimate relationship with water make limestone a fascinating subject for a landscape photographer. Whether it is great crags and gorges, like Malham Cove and Gordale Scar, or the fluidity of a small patch of limestone pavement, this rock has an undeniable pull and the north-west of England is blessed with some of the best examples of limestone landscapes in Britain, if not the whole of Europe. I began photographing limestone in earnest about 6 years ago with the intention of exploring the limestone landscapes within a reasonable drive from my home near Bolton, and also out of a desire to challenge perceptions. Most people probably associate limestone pavement with the Yorkshire Dales, and Malham in particular. As grand as Malham is, it is only part of the story and fabulous limestone scenery can be found in Lancashire and Cumbria too. As a photographer and walker it fascinates me how political boundaries such as county lines or national park boundaries, influence the value placed on particular landscapes – limestone landscapes in the Dales are well known but those in Lancashire and Cumbria are rather forgotten about.
The Landscapes
Malham Cove and Goredale Scar are the undoubted jewels in the limestone crown. Quite rightly they draw visitors in the thousands and the circular walk from Malham (past Janet's Foss, through Gordale, scramble up the waterfall, cross over to Malham Tarn before returning via Watlowes dry valley to the lip of Malham Cove) is one of the finest walks in the country. However, there is so much more to limestone than these grand features, though some of the delights take a little more work to appreciate.
The south-western fringes of Ingleborough have a great expanse of limestone pavement at Southerscales, Harry Hallam Moss and all the way round to White Scar, which is superior to the pavement at Malham in both extent and variety. Across Chapel-le-Dale the pavement continues on Twistleton Scar and on the hillsides above Kingsdale. Yet perhaps the finest limestone pavement in England is not even in Yorkshire - Great Asby Scar NNR and the surrounding area above Orton lies in Cumbria (though it has recently been included in the Yorkshire Dales National Park).
Cumbria can boast numerous limestone outcrops which are frequently overlooked in the head-long dash to the Lake District. Hills such as Whitbarrow (see Paul Moon's recent article), Farleton Fell and Hutton Roof Crags offer magical walks of tranquility with an entirely different feel to the Dales. Here the pavements are frequently tilted and at Hutton Roof Crags ash, hazel and hawthorn have colonised the limestone pavement enclosing the views and creating a mysterious and disorientating landscape.
Indeed, woodland on limestone pavement adds an extra dimension. Oxenber and Wharfe Woods, near Settle, is an exquisite landscape of birch, hazel and rowan trees with a stunning display of wildflowers in the Spring. Whereas, over in Lancashire, Silverdale has numerous pockets of woodland where yew is the dominant species and darkness enfolds the landscape. These landscapes warrant slow exploration in order to begin to understand and occasionally you may come across a wild daffodil glade or the scrape of a deer.
The Project
As I have built up my collection of images over time I have begun to reflect more upon what they mean to me. Initially, I was simply after geographical coverage and a range of subject matter. At times I began to worry about being repetitive but the more I explored, the more there was to see – subtle differences here, a touch of magic there. I wanted the work to reflect not just the actual limestone features but also the more general sense of the landscape in these areas where limestone was the underlying rock and the consequences thereof. Hawthorn and ash, primrose and cowslip may not be unique to limestone landscapes but they don't half add to that sense of place.
I am not one to over-think my work, to read into it all sorts of hidden meanings, I am perfectly comfortable with photographing a nice view. But as the body of work grew it dawned upon me that I was in essence photographing two elements – flow & time. Limestone and water are inseparably linked – from ancient beginnings in warm oceans, through scouring by glaciers and on to the inexorable erosion by rain water creating the fluid, sculptural forms we see in the limestone today. It is also a story of time, the history of a rock from its beginnings millions of years ago to changes in the landscape that occur year by year, season by season, day by day. Of course, these elements aren't unique to limestone but in limestone they seem so much more writ large and when I wander through the woods in Silverdale or across the pavements of Ribblesdale I am observing snapshots of time in an evolving landscape. A landscape on an extremely long journey!
I thought that I was approaching the end of the project but now I am not sure if I can give it up. I know that there is more out there that I have yet to see and I love re-visiting old haunts time and time again. The magic does not wear off.